Awesome show tonight!! The Pezcap: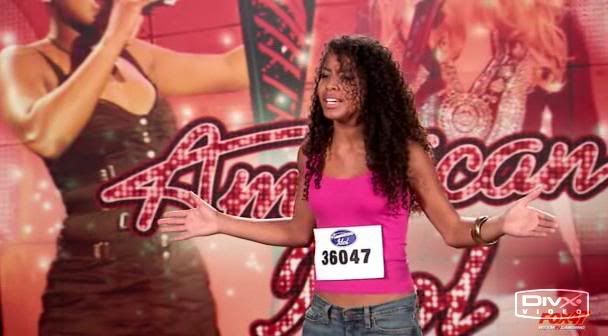 Lisa Tucker (16, Anaheim, CA), "One Moment in Time" - *Love*! Definitely Top 10 material. In fact I'd give her a bye.





Brett "Ace" Young
(24, Boulder/LA), Westlife's "All Over Again" - I like him a lot. You might expect someone w/his looks & style (& talent) to be cocky, but he was very polite & respectful. Randy loved him, no surprise.

Rochelle Elaine Dye (25, Kansas City, fans w/t-shirts; evicted from apt.) - I'm not sure yet.

Chris Daughtry (25, NC, married w/2 kids, 'rocker'), "The Letter" - strange phrasing/rhythm, voice ok, good enough for Hollywood but not sure after that. Seems like a really nice guy though & good attitude overall.

Heather Cox (21, NC, blond), "You Raise Me Up" - short clip of singing only; not sure yet. But I'm usually not a fan of blonds (women, anyway).

Garet Johnson (17 or 18? looks 12! cattle rancher from WY, sings to his turkey. only.), "Can You Feel the Love Tonight" - hmm. If he can get his confidence level up & try to keep his mouth shut while not singing (is quite naive & immature), could have potential. Picture Anthony several years younger w/no public singing experience...

April Walsh (red hair & red floral dress, 27, CA - the one who tried to go up the escalator, I think, & possibly a TWoP'er), sang a Bjork song - again unsure.

Overall an even better show that last night - fewer backstories & fewer dragged-out horrible folk, though would've preferred much less (read, none) promo of confused gender boi.